An Introduction to Crystal Grids
Daily Rituals for Your Heart, Health, and Happiness
Author: Karen Frazier
Regular price
Sale price
$13.99 USD
Unit price
per
Sale
Sold out
Healing the mind, body, and sacred spirit―a beginner's guide to the power of crystal grids.
A small symphony of crystals energized in complete harmony―that's a crystal grid. A single gemstone sets the tone. Add more crystals and sacred geometry brings shape and structure to amplify and harness the ultimate power of your grid.An Introduction to Crystal Grids is the perfect guide for beginners to manifest your intentions and get on the path to positive energy, healing, and wellness.
Start your gemstone journey with powerful crystals―then build your skills grid-by-grid so that the collective crystal energy can deliver the change you desire. From the simplest shape (a single circle) to the most complex configuration (flower of life),An Introduction to Crystal Grids gives you the insights and information to achieve your desired manifestation―from aura cleansing to cultivating a work ethic.
This essential handbook on crafting crystal grids includes:
Get crystal clear―Discover 25 essential crystals―from amber to turquoise―and their healing properties in this quick crystal grids reference guide.
Sacred shapes―Explore fundamental forms, sacred geometry, and 15 basic grid shapes like a spiral, a sunburst, a triangle, and beyond.
Manifest positivity―Build crystal grids step-by-step that enrich the five modes of life―health, spirituality, career, relationships, and learning.
Learn how to release the awesome healing power of crystals grids in your everyday life.
Share
About The Author:

Karen Frazier is an intuitive energy healer, psychic medium, author, and musician. She writes books and articles about energy healing, crystals, sound healing, metaphysics, and the paranormal. As a professional writer, Karen has ghost written a number of books and penned hundreds of articles about a variety of topics. She's also a published author in Chicken Soup for the Soul: Find Your Inner Strength!, Chicken Soup for the Soul: Think, Act, and Be Happy!, and Chicken Soup for the Soul: Think Possible!

Karen is a columnist for Paranormal Underground Magazine. She currently writes two columns for the magazine: Dreams and Symbols, and Metaphysics and Energy Healing. Karen also co-hosted Paranormal Underground Radio for more than eight years. She formerly served as Paranormal Underground's Managing Editor. She also edits and writes for the website LoveToKnow about paranormal, horoscopes, tarot, feng shui, and energy healing.

A frequent guest in media discussing the results of her afterlife research, Karen has appeared on the Travel Channel's Mysteries at the Museum, spoken at regional conferences including the Oregon Ghost Conference, Haunting for Hope, Port Gamble Ghost Conference, and Paracon Seattle, and appeared on numerous radio shows.

Karen is an Usui Reiki Ryoho Master/Teacher (Shinpiden), a crystal Reiki master, and a certified animal Usui Reiki Ryoho practitioner, as well as an ordained minister for the International Metaphysical Ministry. She has also studied numerous energy and alternative healing techniques including sound healing, Tibetan sound healing, polarity therapy, quantum touch, aromatherapy, metaphysical healing, feng shui, I Ching, and crystal healing. She teaches classes in all of these subjects at Vision Collective in Portland, Oregon. Additionally, Karen performs sound baths with sacred Tibetan sound instruments. She is a Nia white belt who holds a Bachelor of Metaphysical Science (B.MSc) and a Masters of Metaphysical Science (M.MSc) from University of Metaphysics, and a PhD in Metaphysical Parapsychology from the University of Sedona. She is currently working towards her Doctor of Divinity (DD) specializing in Spiritual Healing at University of Metaphysics.

Karen volunteered as a guardian ad litem for abused and neglected children, in local classrooms as a music tutor, in the phone room for the local crisis clinic, and at the (haunted) Lewis County Historical Museum. She lives in Southwest Washington with her husband.
Editorial Reviews

"Setting and manifesting your intentions with crystal grids―what a marvelous idea! An Introduction to Crystal Grids is the complete step-by-step guide for making crystals part of your daily life. From the sacred geometry of the grid shapes to the powers of the various crystals, to sample grid diagrams and beautiful illustrations of crystal grids at work, Karen's book has it all."―Patricia Lantz, Astrologer

"An Introduction to Crystal Grids is a marvelous, must-have resource and valuable tool for anyone working with crystals! Karen shares her expertise with easy-to-follow grid layouts complete with diagram explanations. She teaches you how to create your own crystal grids to address specific desires, problems, and challenges. Her insight and knowledge of crystal properties provides you with actionable information to make your energy work easier and give you better results. Whatever your reason for using crystals, Karen has a grid that can help you get the most out of crystal energies and their power!"―Sally Painter, Author of Auras Revealed, How to See, Understand and Even Repair Your Aura

"As a psychic medium I understood the power of crystals but did not realize the potential of their energy when used in a grid. This book is everything you need to create more in your life. More love, healing, creativeness, and spiritual growth. I love that Karen encourages the reader to use their own intuition when choosing the stones and grids. Beautiful pictures and easy-to-understand directions start you off creating your own grid as soon as you choose your intention."―Mackenna Long, Psychic Medium, Hypnotherapist

"In her expertise, Karen Frazier guides you to use crystals as powerful tools in this engaging book. Whether you are new to crystals, or have a large collection, you can learn a great deal from Karen. She is very thorough and covers every aspect from how crystals work to the different types of grids you can use. There are definitions on each grid layout that taught me their specific meaning and also what each grid is best used for. The illustrations in the book make it very easy to follow. I have longed for a book like this for years and Karen―by far―exceeded my expectations. This is not a book that will sit on a shelf, but one I will reference often."―Tristan David Luciotti, Reiki Master, Energy Healer, & Life Coach
Book Details

Publisher ‏ : ‎ Rockridge Press; Illustrated edition (January 7, 2020)
Language ‏ : ‎ English
Paperback ‏ : ‎ 196 pages
ISBN-10 ‏ : ‎ 1646110668
ISBN-13 ‏ : ‎ 978-1646110667
Item Weight ‏ : ‎ 1 pounds
UNSPSC-Code ‏ : ‎ 14111500
Dimensions ‏ : ‎ 8 x 0.6 x 7.9 inches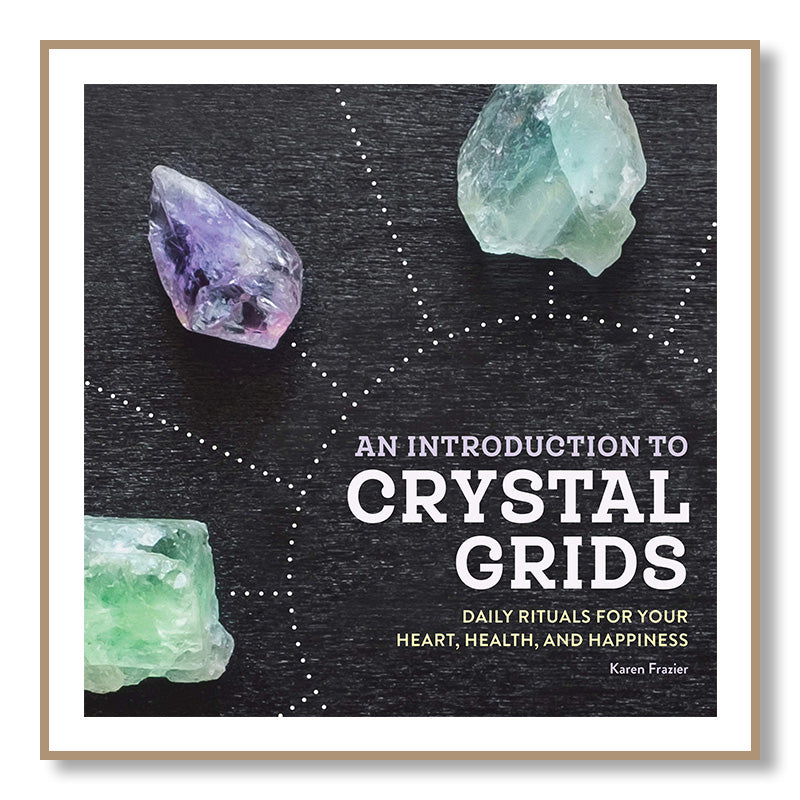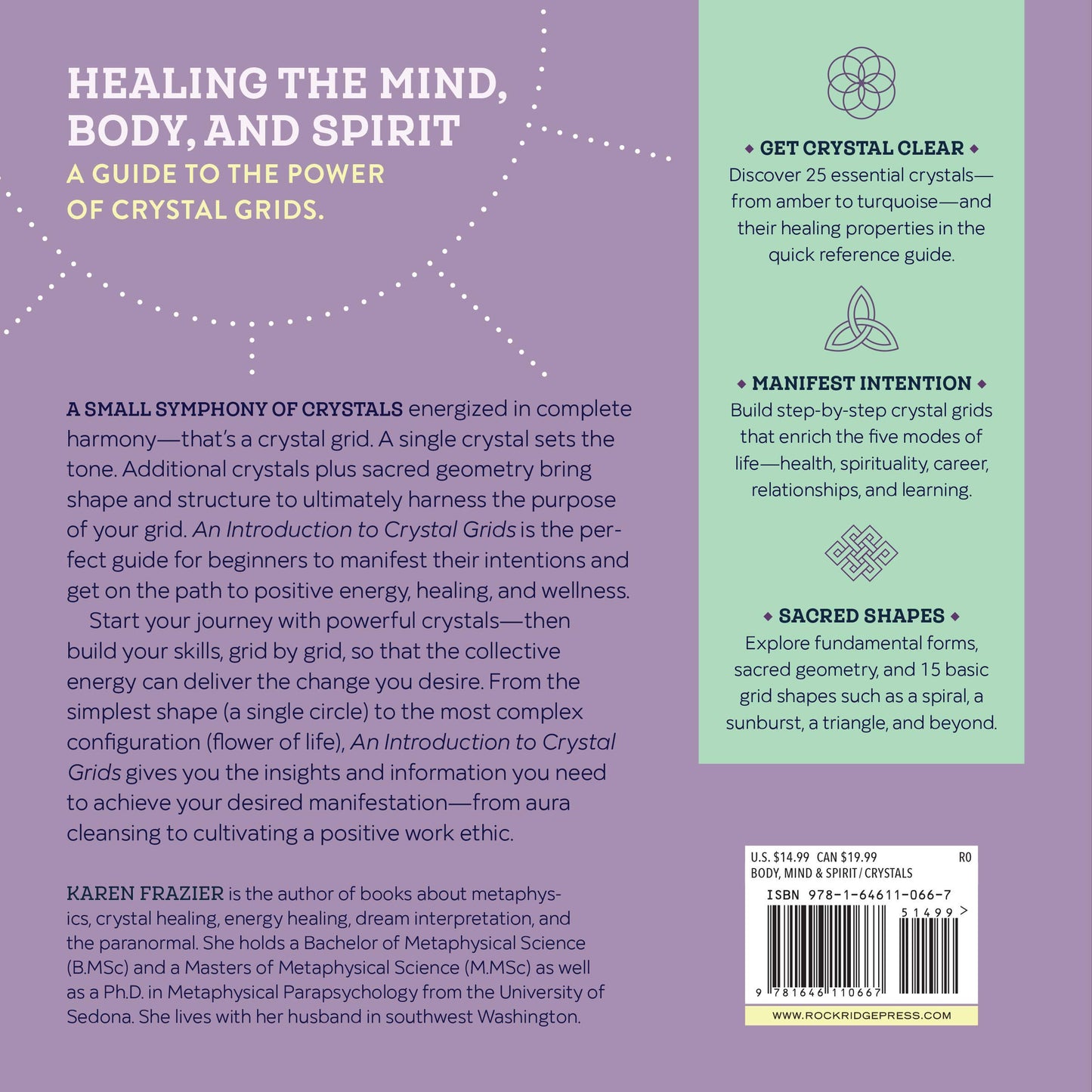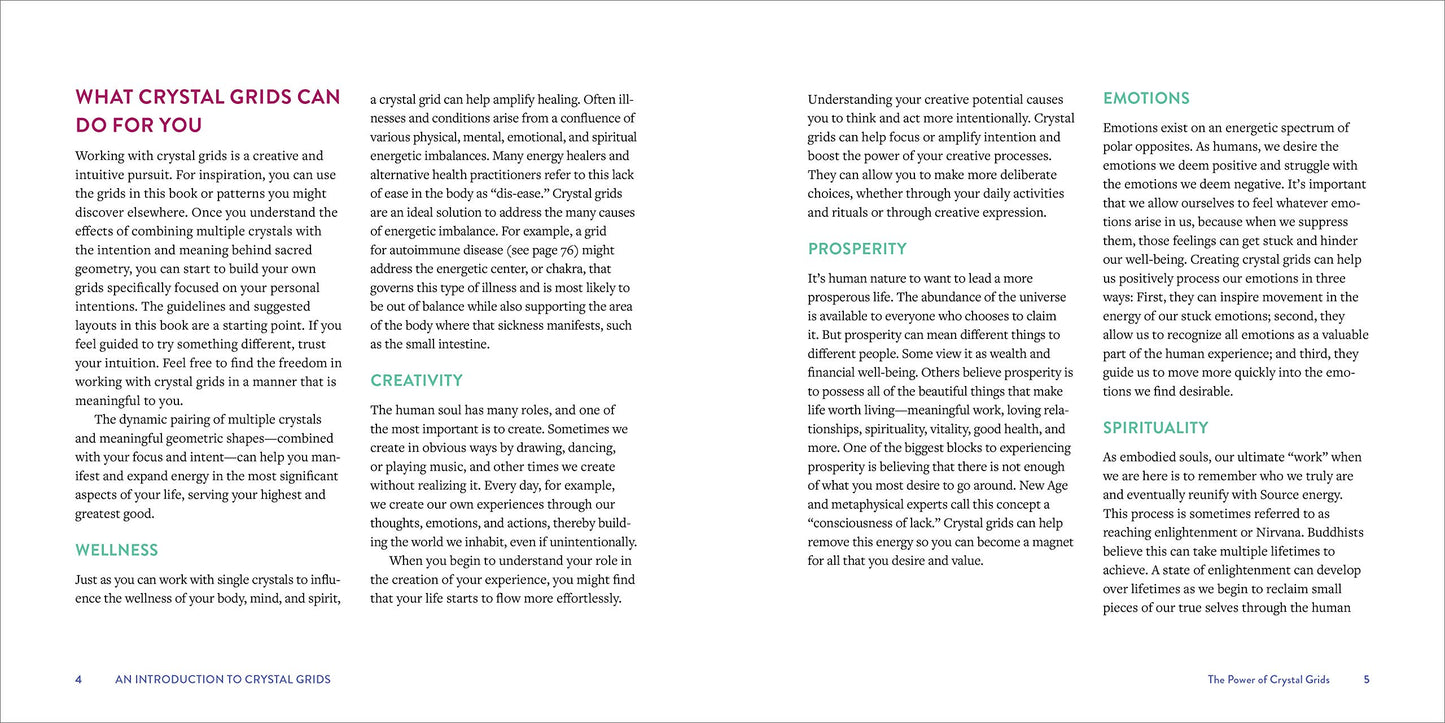 Additional Books Selected For You
Regular price

Sale price

$9.99 USD

Unit price

per

Regular price

Sale price

$17.99 USD

Unit price

per

Regular price

Sale price

$28.99 USD

Unit price

per